BMRC Visual Arts Series
March 31, 2021
Conversations on Black Art, Community and Legacy
Join us for a VIRTUAL visual arts series throughout the month of April. Each week, the BMRC will host conversations with Chicago arts organizations and artists who amplify the city's dynamic Black art and artists. This series is curated by BMRC Executive Director, Marcia Walker-McWilliams and BMRC Student Intern, Viviana Jimenez and supported by funding from the Terra Foundation for American Art.
This event is open to the public and registration is required for each event in the series. If you require accommodations for accessibility purposes, please contact bmrc@uchicago.edu.
Series schedule:
Tuesday, April 6, 2021 from 4:00-5:00
REGISTER
Arts Organization panel featuring: Jackie Williams, Executive Director of African American Arts Alliance; Patric McCoy, Founder of Diasporal Rhythms; and Debra Kerr, Executive Director of Intuit: the Center for Intuitive and Outsider Art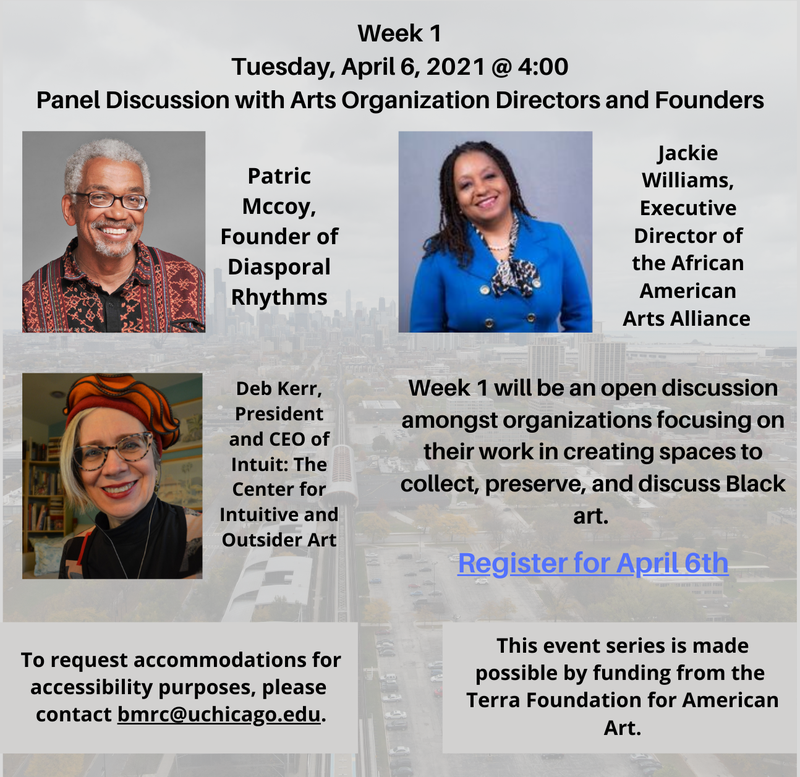 Tuesday, April 13, 2021 from 4:00-5:00
REGISTER
Artist Collectives panel featuring: alt_, Chicago Sounding Boards and Englewood Arts Collective
Tuesday, April 20, 2021 from 4:00-5:00
REGISTER
Artist Talk with artist, designer and letterpress printer, Ben Blount. Moderated by Steven Adams, BMRC Board Chair.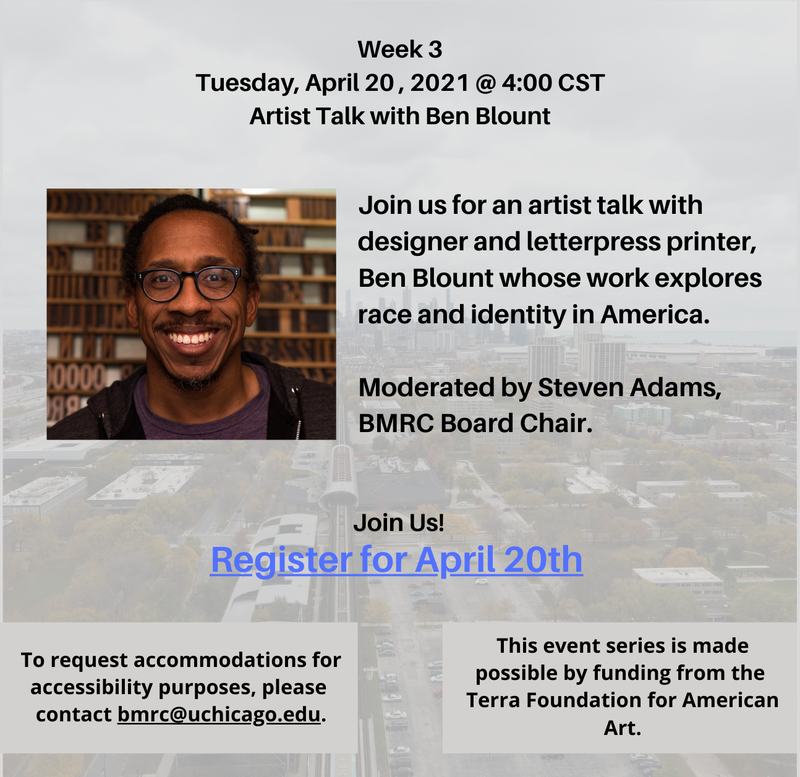 Tuesday, April 27, 2021 from 4:00-5:00
REGISTER
Arts Leaders panel on supporting the next generation of young artists, featuring: David Johnson, Founder of True Chicago and Tempestt Hazel, a Founder of Sixty Inches from Center and Arts Program Officer with the Field Foundation
PDF Flyer for event series - BMRC Visual Arts Series - April 2021