EVENT: This Is Us...2 Celebration and Conversation
November 4, 2022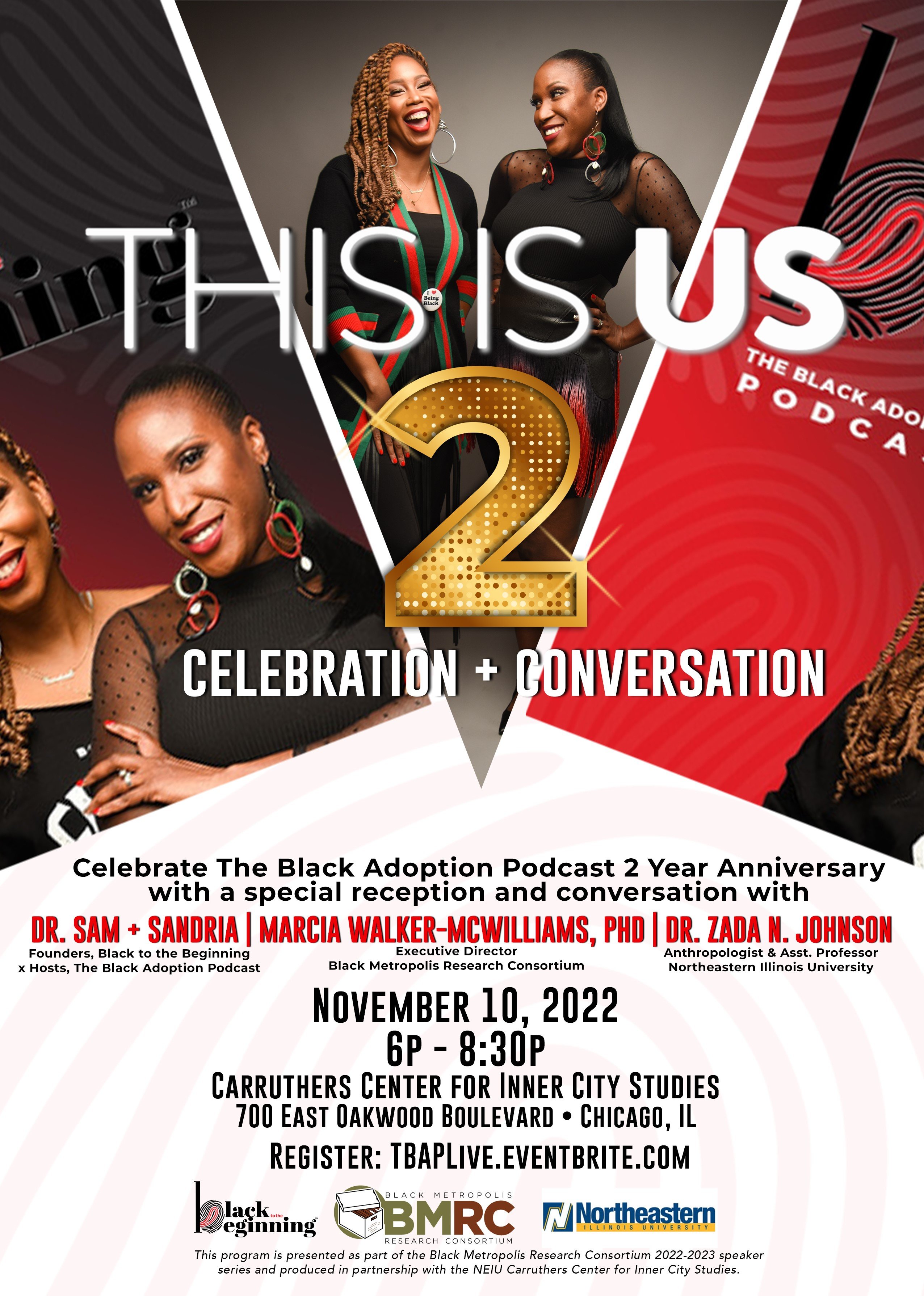 When: Thursday, November 10, 2022 at 6:00pm
Where: NEIU Carruthers Center for Inner-City Studies, 700 East Oakwood Ave, Chicago, Illinois
Co-sponsored by the Black Metropolis Research Center and the Center for Inner-City Studies.
---
44 Episodes.
10K+ downloads.
Infinite impact.
When Sandria Coleman and Dr. Samantha Washington launched the first episode of Black to the Beginning: The Black Adoption Podcast on November 13, 2020 they didn't know what to expect. Would people listen to a podcast about Black Adoption? YES!
The last two years have been an exciting whirlwind of sharing stories from people across the country who dared to own their voices and share their Black Adoption Experiences with the world. Black people do adopt. There are #BlackandAdopted people (we're two of them!). This adoption conversation and its many intersections impacts our families, too.
This is us, too.
Let's talk about it.
We'll be in conversation with Marcia Walker - McWilliams, PhD, Executive Director, Black Metropolis Research Consortium , moderated by Dr. Zada N. Johnson, Anthropologist & Asst. Professor, Northeastern Illinois University.
Whether you're new to our work or have been rocking with us since Episode 1, come learn WHY we do this work, why shining a light on this taboo topic is necessary for Black families, and how you can help us disrupt the secrecy, stigma, shame and silence around Black Adoption.
RSVP highly recommended for accurate catering count :-)
Celebration: 6p-7p & Conversation (w/ Q&A): 7p-8:30p
See you on November 10th!
To listen to The Black Adoption Podcast: https://linktr.ee/blacktothebeginning
Questions and Media Inquiries: Email Sandria & Dr. Sam at info@blacktothebeginning.com