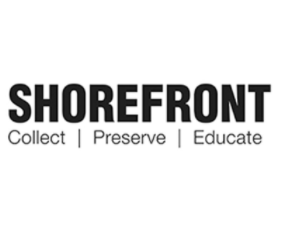 Shorefront Legacy Center
2214 Ridge Avenue, Evanston, IL 60201
Results 1 to 23 of 23
African Americans--Illinois--Evanston. (23) x
1940s (23) x
Shorefront Legacy Center (23) x
clear facets
Anna Belle Frazier (1918-2005) was an African-American social and civic leader in Evanston, Illinois during the second half of the 20th Century. She was an active member of various organizations such as the Ladies Auxiliary of the Veterans of Foreign Wars, Ebenezer A.M.E Church, Order of the Eastern Star, Norshore 12, and Suburbanites. The bulk of the material comprising the
Berniece Ball Perry (1915-1995) was an African-American women's labor leader who lived and worked in Evanston, Illinois. She was an active member of a number of social and civic clubs and organizations and worked to ensure fair treatment of African-Americans in the workplace. The Berniece Ball Perry papers span from 1922 to 1997 and cover Perry's personal and professional life's
The Ebenezer A.M.E. Church was the first African-American church established in Evanston, Illinois. The collection includes meeting minutes, publications, newspapers clippings, reports, ledgers, photographs, and audio-visual recordings. Although not complete, the collection is especially strong in holdings documenting the Ebenezer A.M.E. Church Gospel Choir.
The Edwin B. Jourdain Jr. Papers spans from 1900-1952. Jourdain Jr. was the first African American to be elected Alderman in Evanston, Illinois, a position he held from 1931-1947. Jourdain was also the state's first African-American Assistant State Superintendent of Public Instruction in Illinois. His father, Edwin Jourdain Sr., was a founding member of the Niagara Movement, a civil rights
Founded by life-long Evanston, Illinois resident Melvin S. Smith in 1941, the Evanston Newsette covered the African-American experience on the Illinois North Shore and the life of former Evanston residents living outside Illinois. Published by Smith, the weekly newspaper ran from 1941 to 1942, when it went on hiatus, and resumed in 1946, continuing until 1950. The Evanston Newsette publications
Foster School was a de facto segregated public school in Evanston, Illinois. Opened in 1905, Foster School began with a one hundred percent white student body and faculty, but demographics began to shift, and by 1945, it was nearly one hundred percent African-American. In 1976, the school was closed. The Foster School Reunion collection includes Reunion Committee meeting minutes, Foster
Eunice Harper Winston married William Harper and had three daughters, Effie, Carrie, and Sarah, before moving to Evanston, IL. Effie married Fred Brooks and had two sons, Fred Jr. and Lawrence (Larry). The Harper Family Collection consists of correspondence, figure drawings, photographs, wedding invitations, memorial folders, a beauty culturist license, business cards, a book of parables, and several yearbooks.
Henry Butler (1860-1957) was an African American businessman who lived most of his life in Evanston, Illinois. From 1891 to 1912 he ran the Butler Livery, a livery and teaming business. In 1912, Butler switched to automobiles and ran a fleet of taxis until his retirement in 1922. The Henry Butler collection consists of photocopied material gathered together by Shorefront
The Horace S. Graves, Jr. (1897-1981) papers are comprised of materials documenting Horace S. Graves, Jr., who was an African-American funeral director, real estate agent, and insurance salesman in Evanston, Illinois. He was an active member of several organizations including: Ebenezer A.M.E. Church, Norshore Twelve, Inc., and the American Legion. The collection material dates from 1923 to 1981 and focuses
Lorraine Morton is known as an educator and the first African American Mayor in Evanston, Illinois. She worked with many non-for-profit groups to advocate for the education of Evanston residents. This collection spans from 1942-2011 and contains Morton's personal and professional papers.
Lun Ye Crimm Barefield was the College and Career Center Coordinator at Evanston Township High School from 1977 to 2000. Her husband, Morris Barefield, was a math teacher and was the first African-American teacher at New Trier High School. The Lun Ye Crimm Barefield Collection spans from the 1940's to 2005, and consists of newspaper clippings, historical memorabilia, photographs, and
In 1892, a group of fourteen Second Baptist Church congregates broke from their church and formed Mt. Zion Baptist Church in Evanston, Illinois. In 1894, Mt. Zion Baptist Church was officially organized and founded. The Mt. Zion Baptist Church records document the organizational and social history of the church, focusing especially on the Reverend John F. Norwood years (1985-2004).
The National Association for the Advancement of Colored People was founded in 1909, "to ensure the political, educational, social, and economic equality of rights of all persons and to eliminate race-based discrimination." After the establishment of the national organization, smaller chapters were formed to provide a sense of community and belonging to the larger entity. Founded in 1928, the Evanston
The Norshore music collection includes music by Evanston, Illinois musicians who recorded music from 1947-2009. The music collection consists of commercially successful artists, such as Patti Drew, as well as local up and coming artists, such a MC Longshot (a.k.a. Chad Helsup). The music includes a variety of genres.
The North Shore Basketball Camp was started in the mid-1980s in Evanston, Illinois in order to offer area youth an athletic outlet. The camp was conducted quarterly in northern-Illinois suburban areas. The North Shore Basketball Camp records span from 1911 to 2008, but the bulk of the material covers the 2001-2008 camp activities.
The Links, Incorporated is an African American professional women's organization founded in 1946 with chapters throughout the United States. The North Shore Illinois Chapter of the Links, Inc. was established in 1972, encompassing members in Chicago's suburban northern and northwest suburbs. The collection was assembled by Shorefront Legacy Center with the majority of the collection coming from North Shore Links
Founded in 1851 in Evanston, Illinois, Northwestern University is a private research university. Through pioneering research and a collaborative work environment, Northwestern offers its diverse student body an array of academic and cultural opportunities. The Northwestern University African American Publications collection documents the history of African Americans at the university as detailed in the school's own publications. It includes pamphlets,
The Obituary and Funeral Program collection is comprised of almost 1200 African American obituaries, funeral programs, funeral hymns, and thank you cards and letters from Evanston and the North Shore area. A database of the holdings is available onsite at Shorefront Legacy Center for use by researchers. The materials span from 1941 to 2012.
Second Baptist Church was the first African-American Baptist church formed in Evanston, Illinois. Founded in 1882, the church still functions today. The Second Baptist Church records span from 1875 to 2008. The Second Baptist Church records concern the social history of the church rather than the organizational.
The Shorefront Legacy Center Research Files collection consists of material gathered on a variety of subjects relating to the African American experience, especially in Evanston, Illinois and its surrounding suburbs. The collection spans from 1880-2011 and includes writings, newspaper clippings, church bulletins, notes, exhibit material, photographs, and oral histories relating to African Americans in the Greater-Chicago area.
The Social and Civic Clubs and Organizations collection is comprised of files, compiled by Shorefront Legacy Center, documenting the history, events, and members of Illinois' North Shore, African-American clubs and organizations.
William H. Twiggs (1865-1960) was a African-American printer, civic leader, and barber in Evanston, Illinois. In 1889, he was involved with the publishing the Afro-American Budget, an early periodical for the African-American community. Spanning from 1905 to 1998, the collection contains original as well as photocopied materials relating to the life, work, and legacy of William H. Twiggs.
The Alpha Phi Alpha Fraternity, the first intercollegiate, African-American fraternal organization for men, was formed at Cornell in 1906 to promote and defend African-American civil rights. The Zeta Xi Lambda chapter was formed in Evanston, Illinois in 1956. The Zeta Xi Lambda Chapter of Alpha Phi Alpha Fraternity, Inc. Collection spans from 1942 to 1997 and contains information relating to