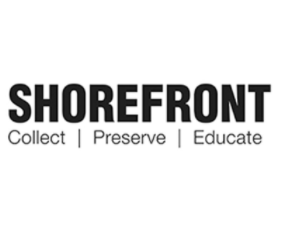 Shorefront Legacy Center
2214 Ridge Avenue, Evanston, IL 60201
Results 1 to 25 of 51
The Social and Civic Clubs and Organizations collection is comprised of files, compiled by Shorefront Legacy Center, documenting the history, events, and members of Illinois' North Shore, African-American clubs and organizations.
These papers contain Tina Lifford's play programs for performance in Evanston and Chicago. Although Lifford primarily works in California, she has made an effort to put on productions in her hometown of Evanston, Illinois.
This collection contains documents, records, photographs, videos and various publications from the Jack and Jill North Shore Chapter of America, Incorporated.
Foster School was a de facto segregated public school in Evanston, Illinois. Opened in 1905, Foster School began with a one hundred percent white student body and faculty, but demographics began to shift, and by 1945, it was nearly one hundred percent African-American. In 1976, the school was closed. The Foster School Reunion collection includes Reunion Committee meeting minutes, Foster
Organized in 1961 in Evanston, Illinois, West End Block Club was a neighborhood organization that focused on general relaying and resolving neighborhood concerns, such as park maintenance, too many one way streets, traffic lights, and public safety on the West side of the Evanston, Illinois.
The Women's Auxiliary of Community Hospital of Evanston, Illinois was a self-governing organization started in 1939 by Dr. Elizabeth Webb Hill. It worked in cooperation with the Community Hospital of Evanston's Administrator and Board of Directors to advance interest in the hospital and its patients through fund raising, volunteering, and providing the community with better understanding of the hospital's programs
Henry Butler (1860-1957) was an African American businessman who lived most of his life in Evanston, Illinois. From 1891 to 1912 he ran the Butler Livery, a livery and teaming business. In 1912, Butler switched to automobiles and ran a fleet of taxis until his retirement in 1922. The Henry Butler collection consists of photocopied material gathered together by Shorefront
The National Association for the Advancement of Colored People was founded in 1909, "to ensure the political, educational, social, and economic equality of rights of all persons and to eliminate race-based discrimination." After the establishment of the national organization, smaller chapters were formed to provide a sense of community and belonging to the larger entity. Founded in 1928, the Evanston
Chad Allen Helsup, stage name MC Longshot, is a hip-hop rapper from the Southside of Chicago, IL. The collection includes diaries, song lyrics, recording contracts, photographs, hotel key cards, and audio-visual recordings.
Founded by life-long Evanston, Illinois resident Melvin S. Smith in 1941, the Evanston Newsette covered the African-American experience on the Illinois North Shore and the life of former Evanston residents living outside Illinois. Published by Smith, the weekly newspaper ran from 1941 to 1942, when it went on hiatus, and resumed in 1946, continuing until 1950. The Evanston Newsette publications
The Edwin B. Jourdain Jr. Papers spans from 1900-1952. Jourdain Jr. was the first African American to be elected Alderman in Evanston, Illinois, a position he held from 1931-1947. Jourdain was also the state's first African-American Assistant State Superintendent of Public Instruction in Illinois. His father, Edwin Jourdain Sr., was a founding member of the Niagara Movement, a civil rights
Founded in 1851 in Evanston, Illinois, Northwestern University is a private research university. Through pioneering research and a collaborative work environment, Northwestern offers its diverse student body an array of academic and cultural opportunities. The Northwestern University African American Publications collection documents the history of African Americans at the university as detailed in the school's own publications. It includes pamphlets,
Founded in Chicago in 1976, Family Focus is a Chicago-based nonprofit family support organization that provides community-based programs for parents, children and teens. In 1979, it expanded with the opening of Family Focus- Our Place, located in the Weissbourd-Holmes Center on Evanston's West Side. The Family Focus Evanston Records primarily consist of paper documents, namely annual reports, publications, financial reports,
The North Shore Basketball Camp was started in the mid-1980s in Evanston, Illinois in order to offer area youth an athletic outlet. The camp was conducted quarterly in northern-Illinois suburban areas. The North Shore Basketball Camp records span from 1911 to 2008, but the bulk of the material covers the 2001-2008 camp activities.
The Evanston Clarion was a newspaper published in Evanston, Illinois from 1994 to 1999. It reported on community events, news, culture, arts, and sports. Each issue in this collection specifically contains an article on African-American history in Evanston, Illinois written by Morris E. (Dino) Robinson, Jr., prior to his founding of Shorefront Legacy Center in Evanston.
Between 1909 and 1969, the Emerson Street YMCA served Evanston's African-American community. The Emerson Street YMCA Collection was intentionally assembled by Shorefront Legacy Center in an effort to represent the history of the YMCA. Some original photos and documents exist, but the collection primarily contains photocopied items that detail the YMCA's history. The collection spans from 1900 to 2010, with
The Ebenezer A.M.E. Church was the first African-American church established in Evanston, Illinois. The collection includes meeting minutes, publications, newspapers clippings, reports, ledgers, photographs, and audio-visual recordings. Although not complete, the collection is especially strong in holdings documenting the Ebenezer A.M.E. Church Gospel Choir.
The Norshore music collection includes music by Evanston, Illinois musicians who recorded music from 1947-2009. The music collection consists of commercially successful artists, such as Patti Drew, as well as local up and coming artists, such a MC Longshot (a.k.a. Chad Helsup). The music includes a variety of genres.
The Norshore Twelve, Inc., a social and civic club in Chicagoland's North Shore region, was formed in 1950 and remained active until 1981. The collection consists of newspaper clippings, artifacts, organizational material photographs documenting the activities of North Shore Twelve and the annual Norshore Debutante Cotillion.
Alice Lucille Tregay (Hicks) was born November 14, 1929 in Evanston, Illinois. She is one of three siblings; she has three children with her husband James Tregay, and has six grandchildren. She attending Evanston Township High School and later graduated from Roosevelt University. Throughout her life, Tregay was known as a political activist, advocating for civil rights issues. She worked
In 1892, a group of fourteen Second Baptist Church congregates broke from their church and formed Mt. Zion Baptist Church in Evanston, Illinois. In 1894, Mt. Zion Baptist Church was officially organized and founded. The Mt. Zion Baptist Church records document the organizational and social history of the church, focusing especially on the Reverend John F. Norwood years (1985-2004).
On August 15, 1907, the Pride of the North Chapter No. 61, Order of the Eastern Star was granted its charter from the Eureka Grand Chapter of Illinois. The Order of the Eastern Star is the largest fraternal organization in the world with both male and female membership, with over 500,000 members. Formed in 1876, the Order of the Eastern
This collection contains publications by For Members Only. Established in 1967, For Members Only is an African American student group at Northwestern University that seeks to provide a unified voice for Northwestern University's African American student population. The Northwestern University For Members Only Publications, dating from 1981 to 2010, contains three different forms of publications including newspapers, newsletters, and magazines.
The Shorefront Legacy Center Research Files collection consists of material gathered on a variety of subjects relating to the African American experience, especially in Evanston, Illinois and its surrounding suburbs. The collection spans from 1880-2011 and includes writings, newspaper clippings, church bulletins, notes, exhibit material, photographs, and oral histories relating to African Americans in the Greater-Chicago area.
The Alpha Phi Alpha Fraternity, the first intercollegiate, African-American fraternal organization for men, was formed at Cornell in 1906 to promote and defend African-American civil rights. The Zeta Xi Lambda chapter was formed in Evanston, Illinois in 1956. The Zeta Xi Lambda Chapter of Alpha Phi Alpha Fraternity, Inc. Collection spans from 1942 to 1997 and contains information relating to