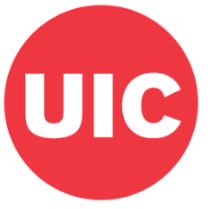 University of Illinois at Chicago
Richard J. Daley Library, 801 S. Morgan St., Chicago, IL 60607
Results 1 to 25 of 170
Aaron H. Payne (1901 to 1994) was a Chicago-area attorney and civic activist. In 1926, after studying law at the University of Chicago Law School, he was admitted to the Bar of the State of Illinois. Three years later Payne served as Assistant City Prosecutor, Assistant Corporate Counsel, and Arbitrator for the Illinois Industrial Commission. In addition, he served for
The Adrian Scheltes collection contains photographs either taken by or collected by Scheltes while he was the Supervisor of Counsel and Guidance for the Blind from the Illinois Division of Vocational Rehabilitation in the late 1940s and early 1950s. In this position he assisted blind people with learning professional skills to enter the workforce. Scheltes also advocated for black blind
The Adult Education Council of Greater Chicago was established in 1924 and incorporated in 1925 as the Chicago Forum Council. The purpose was "to promote understanding and good will by bringing people of different groups into friendly association with each other for discussion of problems related to the public welfare." The collection contains annual reports, brochures, constitution and by-laws, correspondence,
Arthur Taylor Aldis was a Wyoming rancher from 1885 to 1889 and a Chicago realtor from 1890 to 1935. The collection consists of correspondence, reports, proceedings, minutes, by-laws, questionnaires, petitions, speeches, clippings, and published material of Aldis and Company, specialists in the management, renting, and appraisal of central property and office buildings.
The American Friends Service Committee (AFSC) is a Religious Society of Friends (Quaker) founded in 1917 to work for peace and social justice in the United States and around the world. It was created in order to provide conscientious objectors ways to serve without joining the military or taking lives. Through the years, the Committee became known for its work
This collection documents the administration, financing, and programming of American Women Composers Midwest, Inc. from its founding meeting in 1982 to 2001. Also included are a small number of documents from 1977 - 1982 relating to the parent national organization. Materials include correspondence, meeting minutes and agendas, reports, incorporation papers, financial records, brochures, press releases, concert programs, published reviews, grant
Annetta Dieckmann (1888-1974) was a pioneer in women's rights and welfare work. She was appointed the first industrial secretary for the National Board of the Young Women's Christian Association in 1918. In 1924, she moved to Chicago and served as the industrial secretary of the Chicago YWCA. Upon her retirement in 1956, Annetta Dieckmann became a full-time volunteer as secretary
Art Resources in Teaching was founded as the Chicago Public School Art Society in 1894 at Hull-House. It was led by Ellen Gates Starr and included a group of women from the Chicago Woman's Club. Its goal was to serve young people in the inner city. It did this initially by refurbishing classrooms and by providing art appreciation lectures and
Part of the Jane Addams Memorial Collection. Arthur Hillman (1910-1985) was a board member and director of the Chicago training office of the National Federation of Settlements and Neighborhood Centers as well as a professor of urban sociology at Roosevelt University. Associated with Roosevelt University since its founding in 1945, Hillman served as dean of the College of Arts and
Calvin Ashford was an African American designer whose company Gilmore-Ashford-Powers Designs was located in Chicago. His collection consists of awards, news clippings, articles and photographs of interior design samples designed by Calvin Ashford.
The Associated Negro Press (1919-1967) was established in Chicago by Claude Barnett. It was the first black news wire service and the majority of its stories were about news affecting African Americans.
Barratt O'Hara (1882-1969) enjoyed one of Illinois' longest legislative careers. The collection consists of correspondence, clippings, legal records, congressional resolutions, agendas and minutes, maps, building plans, press releases, poll sheets, poems, sheet music, programs, bibliographies, and photographs.
Ben L. Reitman (1879-1942), known as the "hobo physician," was an anarchist, lover of radical Emma Goldman, and advocate on behalf of the homeless, sex workers, the poor, and other "social outcasts." He promoted birth control and awareness of and treatment for sexually transmitted diseases. This collection includes correspondence with Emma Goldman and others, some of Reitman's essays, articles, and
Bernard Epton (1921 — 1987) was an American politician who served in the Illinois House of Representatives and made an unsucessful run for Mayor of Chicago in 1983. The Bernard E. Epton papers includes correspondence, newspaper clippings, news releases, issue papers, photographs, certificates and an obituary. The papers focus on Epton's 1983 Republican campaign for Mayor of Chicago.
The correspondence, minutes, reports, financial records, publications, research studies and subject files contained in this collection reflect the administration, programming and advocacy efforts of the Beverly Area Planning Association between 1967 and 1972.
This collection was assembled from various small manuscript items donated to the UIC Library Special Collections department starting in 1968.
The Bob Crawford Audio Archive collection consists of roughly a hundred tapes of interviews, radio programs and City Council proceedings collected from about 1970 to 2001 by Bob Crawford of Chicago's WBBM radio station. The collection includes more than 2,100 sound clips from Chicago mayors and other politicians or public figures in Chicago.
The Brotherhood of Railroad Brakemen (BRB), is one of the largest of four transportation unions in the United States. It was established on September 23rd 1883 by eight railway workers who met in Oneonta, New York, in the yards of the Delaware and Hudson Railroad. The organization changed its name to the Brotherhood of Railroad Trainmen (BRT) in 1890. The
This collection contains photographs from the following construction projects: the Calumet Skyway (later named the Chicago Skyway), the Northern Illinois Toll Road Project in 1958, and the Congress Expressway (later renamed the Eisenhower Expressway).
Cardiss Collins was the Democratic Representative in the United States House of Representatives from the 7th district in Illinois. Collins served from 1973-1997, after being elected to the 93rd Congress by special election to fill the vacancy caused by the death of her husband, George Washington Collins. Collins was the first African American woman to represent the Midwest in Congress
The Cathedral Shelter was established in 1919 as a social service agency of the Episcopal Diocese of Chicago. The collection consists of annual reports, case files, correspondence, by-laws, minutes, newsletters, newspaper clippings, photographs, and published material pertaining to the operation of the Cathedral Shelter.
Cecil Armillo Partee (1921-1994) was an African-American lawyer and politician who served in a variety of public service roles in Illinois and Chicago.Cecil Armillo Partee (1921-1994) was an African-American lawyer and politician who served in a variety of public service roles in Illinois and Chicago. The Cecil A. Partee Papers reflect his professional work as the State's Attorney for Cook
Charles F. Armstrong (1919-1965) served the 22nd District in the Illinois House of Representatives for five consecutive terms, from 1957 until his death in 1965. A Democrat with a strong interest in public education, Armstrong sponsored H.B. 113 (1963) amending the Illinois School Code to require revision of school districts to eliminate racial segregation of children. The collection consists of
Charles Harrison was a product deisgner who worked for Sears, Roebuck and Co., for nearly 30 years, from 1961 to 1993. The collection includes examples of Charles Harrison's work from his time at Sears.
Part of the Jane Addams Memorial Collection. Charles P. Schwartz (1887-1975) was an attorney, civic leader, and educator in the social welfare movement. Schwartz served as chairman of the State of Illinois Committee on Citizenship and Naturalization and wrote many pamphlets for new citizens. Schwartz also served as president of the City Club of Chicago and in 1936, he was