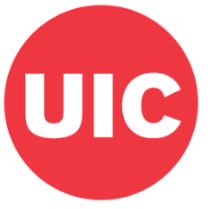 University of Illinois at Chicago
Richard J. Daley Library, 801 S. Morgan St., Chicago, IL 60607
Results 1 to 25 of 69
Aaron H. Payne (1901 to 1994) was a Chicago-area attorney and civic activist. In 1926, after studying law at the University of Chicago Law School, he was admitted to the Bar of the State of Illinois. Three years later Payne served as Assistant City Prosecutor, Assistant Corporate Counsel, and Arbitrator for the Illinois Industrial Commission. In addition, he served for
The Adult Education Council of Greater Chicago was established in 1924 and incorporated in 1925 as the Chicago Forum Council. The purpose was "to promote understanding and good will by bringing people of different groups into friendly association with each other for discussion of problems related to the public welfare." The collection contains annual reports, brochures, constitution and by-laws, correspondence,
Arthur Taylor Aldis was a Wyoming rancher from 1885 to 1889 and a Chicago realtor from 1890 to 1935. The collection consists of correspondence, reports, proceedings, minutes, by-laws, questionnaires, petitions, speeches, clippings, and published material of Aldis and Company, specialists in the management, renting, and appraisal of central property and office buildings.
Annetta Dieckmann (1888-1974) was a pioneer in women's rights and welfare work. She was appointed the first industrial secretary for the National Board of the Young Women's Christian Association in 1918. In 1924, she moved to Chicago and served as the industrial secretary of the Chicago YWCA. Upon her retirement in 1956, Annetta Dieckmann became a full-time volunteer as secretary
Art Resources in Teaching was founded as the Chicago Public School Art Society in 1894 at Hull-House. It was led by Ellen Gates Starr and included a group of women from the Chicago Woman's Club. Its goal was to serve young people in the inner city. It did this initially by refurbishing classrooms and by providing art appreciation lectures and
Part of the Jane Addams Memorial Collection. Arthur Hillman (1910-1985) was a board member and director of the Chicago training office of the National Federation of Settlements and Neighborhood Centers as well as a professor of urban sociology at Roosevelt University. Associated with Roosevelt University since its founding in 1945, Hillman served as dean of the College of Arts and
Barratt O'Hara (1882-1969) enjoyed one of Illinois' longest legislative careers. The collection consists of correspondence, clippings, legal records, congressional resolutions, agendas and minutes, maps, building plans, press releases, poll sheets, poems, sheet music, programs, bibliographies, and photographs.
Ben L. Reitman (1879-1942), known as the "hobo physician," was an anarchist, lover of radical Emma Goldman, and advocate on behalf of the homeless, sex workers, the poor, and other "social outcasts." He promoted birth control and awareness of and treatment for sexually transmitted diseases. This collection includes correspondence with Emma Goldman and others, some of Reitman's essays, articles, and
This collection was assembled from various small manuscript items donated to the UIC Library Special Collections department starting in 1968.
The Cathedral Shelter was established in 1919 as a social service agency of the Episcopal Diocese of Chicago. The collection consists of annual reports, case files, correspondence, by-laws, minutes, newsletters, newspaper clippings, photographs, and published material pertaining to the operation of the Cathedral Shelter.
Part of the Jane Addams Memorial Collection. Charles P. Schwartz (1887-1975) was an attorney, civic leader, and educator in the social welfare movement. Schwartz served as chairman of the State of Illinois Committee on Citizenship and Naturalization and wrote many pamphlets for new citizens. Schwartz also served as president of the City Club of Chicago and in 1936, he was
The collection contains minutes, speeches, annual reports, studies, reports, and correspondence dating from 1900 to the present. The materials pertain to Chicago area settlement houses, social work, childcare, public housing, poverty, Jane Addams, and Louise de Koven Bowen.
Founded in 1910, the National Urban League is one of the oldest African American social service, research, and advocacy organizations in the United States. A group of sociologists, social workers, and philanthropists founded the Chicago League in 1916 to address the rapidly increasing needs of the African American community during a time of voluminous migration. The specific focus of the
The Chicago Woman's Aid was founded in 1882 as the Young Ladies Society to provide civic, philanthropic, literary, educational, and social welfare programs. The organization was divided into several departments including the Civics and Philanthropy Department, the Educational Department, and the Art and Literature Department. It was active in such areas as public housing, public health, child welfare, and arts
Tracing its origins to 1883, the Children's Home and Aid Society is a private charitable organization devoted to helping homeless and dependent children. It has offered adoption foster-care, boarding, counseling services, and other services to thousand so children and families. This collection includes financial records, administrative records, publications, reports, correspondence, and one videocassette tape, all produced by or on behalf
The Citizens' Association of Chicago was founded in 1874 in order to ensure what its members believed to be honest and cost-effective governance in the city. The collection consists of annual reports, by-laws, committee reports, speeches and bulletins pertaining to fire protection, municipal elections, and the administration of public funds by the Treasurer of Cook County, Illinois.
The Cook County School of Nursing emerged out of two pressing factors: the need to provide continued nursing services to Cook County Hospital and the need for a nursing education program to fulfill the requirements of the last class of nursing students admitted to the defunct Illinois Training School for Nurses. It opened in 1929 at the former site of
The Cook County School of Nursing (CCSN) began in 1929 when students from the last graduating class of the Illinois Training School for Nurses (ITSN) finished their final year of coursework at this newly formed institution. In 1949, the Cook County School of Nursing, along with three other local nursing programs, entered into an affiliation with the University of Illinois,
These papers cover the Daughters of Union Veterans of the Civil War, primarily in respect to the Illinois Department. They also include documents pertaining to the Maywood Home for Soldiers' Widows.
The collection contains correspondence, diaries, lectures, essays, sermons, minutes, scrapbooks, and clippings as well as published and unpublished writings. Dr. Preston Bradley was the founder of the Peoples Church of Chicago. In 1912, Dr. Bradley withdrew from the Presbyterian ministry to establish an independent church based on a creed of "the Good, the True, and the Beautiful." The Peoples Church
Edith Ross was an English teacher at Chicago's DuSable High School during the 1960s. She attended Western Illinois State College, and received her M.A. in 1951. A religious woman, Edith Ross was involved in her church, the Sixth Grace United Presbyterian Church of Chicago.
Ely Aaron was a Chicago lawyer who served with various organizations and civic committees related to civil rights, Jewish issues, and racial integration. The collection contains his personal papers related to these issues and reflect his work as a civic leader during the mid-twentieth century.
Erwin Arthur "Bud" Salk (June 1918-July 2000) was a businessman, civil rights activist, peace advocate, philanthropist, author and educator. The Erwin Salk Multicultural Collection contain agendas, minutes, financial statements, bulletins, memoranda, minutes, newsletters, press releases, by-laws, clippings, correspondence, notes, manuscripts, pamphlets, artifacts, photographs, posters, proceedings, political buttons, speeches, phonograph records, education materials, and reports spanning the mid-1930s through about 1997.
Irene Kawin was a probation officer of the Juvenile Court of Cook County from 1913 to 1962, serving as deputy chief beginning in 1927. Ethel Kawin was a child psychologist who directed the Pre-School Department of the Institute for Juvenile Research from 1925 to 1934. The collection contains correspondence, reports, newspaper clippings, and articles.
The collection contains records from the Society's founding in 1882 to the present. The materials include the constitution and bylaws, reports, minutes, correspondence, financial and legal records, membership lists, speeches, photographs, and newspaper clippings and programs. The Ethical Humanist Society was founded in 1882 as the Society for Ethical Culture of Chicago to "promote a nobler private and juster social