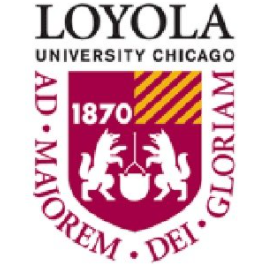 Loyola University Chicago
Cudahy Library, Room 218, 1032 W. Sheridan Road, Chicago, IL 60660
Results 1 to 25 of 48
Spurred by a call from the Urban Apostolate of Sisters in Chicago for a center for peace and justice in the city, six Catholic religious communities founded the 8th Day Center for Justice in 1974. These six communities included the Sisters of Mercy, Sisters of Charity of the Blessed Virgin Mary, Dominicans, Adrian Dominicans, Sisters of Providence, and Sisters of
The Afro-American Studies program (AASP) was formally started in March 1971 through the work of the AASP Committee and Dr. Milton A. Gordon, who was named the first director. The Afro-American Studies program was introduced to add the possibility of studying Black history and culture into the Loyola curriculum. In 1990 the name of the Afro-American Studies Program was changed
Arthur L. Berman represented the Rogers Park neighborhood in the Illinois House from 1966 to 1976 and the Illinois Senate (9th District) from 1977 to 2000. During his time in the Illinois House and Senate he was well known for championing educational issues and tackled such issues as funding, parks, playgrounds, teachers, unions, crime, illiteracy, and special education. His interest
Bethuel "B.G." Gross's extensive career spanned both music and psychology. He served as the organist and music director at numerous churches, including the St. James Methodist Church in Chicago and the Baker Memorial United Methodist Church in St. Charles, Illinois. Gross also held positions within university music departments, including the University of Akron, Shurtleff College (Alton, IL), and Loyola University
In March of 1994, Bari-Ellen Roberts became the lead plaintiff in the largest class action discrimination suit in history. "I've never been afraid to compete with white people. I've been doing it since I was a child." These are the challenging words that introduce Bari-Ellen Roberts to the reader of her book, Roberts vs. Texaco.
The Catholic Church Extension Society was established October 18, 1905, to serve the home missions, areas that lacked personnel, organization, and finances. The Extension Society has helped to build churches, educate and support clergy and seminarians, and has provided financial assistance for dioceses in the western and southern states as well as Alaska, Hawaii, Puerto Rico, the Philippines, and other
The Loyola Center for Urban Policy (CUP) began in December 1979 and was phased out in 1988. During its nine years of existence, CUP gained a reputation for supplying timely and creditable research on practical, urban policy-oriented subjects. CUP was headed by Dr. Raymond Tatalovich, a professor in the political science department at Loyola University. As director, Tatalovich was involved
Project focuses of impact of the Daley Era (1945-1980) on public schools; oral histories of teachers and former students.
Church Women United in Illinois (CWUI) is the state chapter of the national organization, Church Women United (CWU). Formed in 1941, CWU is an ecumenical movement of interdenominational Christian women from diverse racial, ethnic, age, and economic backgrounds. The fundamental purpose of CWU is to bring Christian women together, united in their faith, to work towards the betterment of the
The Cook County Circuit Court Judges Oral History Project was conducted by graduate students in Loyola University's Public History program. Working in teams of three, students conducted research on interview subjects, developed questions, and conducted oral history interviews with retired Cook County Circuit Court Judges.
Dan Rostenkowski (1928-2010) was elected as a Democrat to the Illinois State General Assembly where he served as a representative in the sixty-eighth general assembly (1952) prior to being elected to the Illinois state senate, where he served from 1954 to 1956. Rostenkowski was first elected to the eighty-sixth United States Congress in 1959 and served in seventeen succeeding Congresses
Deborah's Place is a non-profit organization established in Chicago, Illinois, in December 1984 to help single, homeless women regain control of their lives. Deborah's Place operates at four locations which provide different services, but all are focused on women who are or were homeless. Deborah's Place itself is an overnight shelter that functions primarily to meet basic needs and allows
In 1977 Mary Margaret Langdon became director of the Community Programs Office at Loyola University Chicago, a position she retained until her retirement in 1993. Megs Langdon was instrumental in organizing personal safety programs on the Lakeshore Campus and in charge of the Walk-to-Work Program. She worked on the Loyola Lakefill Project, which was eventually halted by court order in
Dorothy Chaplik was born on June 15, 1922, in Chicago, Illinois, to Isidore and Marion Rose Goldberg. She lived almost entirely in Chicago until 1951 when she moved to Evanston and later to Skokie, Illinois. She graduated from Roosevelt High School in Chicago in 1939 and attended Schurz Junior College the following year. On July 3, 1946, Dorothy married Seymour
Edward W. Schneider, a native of Chicago, was born on December 1, 1913. In 1936 he graduated from Loyola University Chicago, where he was a star athlete and president of the Monogram Club. From 1934 to 1942, and again from 1959 to 1960, he served as the Sports Publicity Director at Loyola. In 1944 he joined the Tribune sports desk
Eleanor Frances Dolan was born in Cambridge, Massachusetts, May 30, 1907, the daughter of Harry Francis Roby and Lillie Eleanor (McFall) Dolan. She has one sister, Elizabeth M. Dolan of New York City. Eleanor F. Dolan received a B.A. (1927) from Wellesley College and her M.A. (1928) and Ph.D. (1935) from Radcliffe College. She served as an intern at Niantic
Henry J. Hyde was a Republican member of the House of Representatives from 1975 to 2007, representing the 6th district of Illinois. He chaired the Judiciary Committee from 1995 to 2001, and the House International Relations Committee from 2001 to 2007.
In 1941, Ralph A. Gallagher, S.J., established the Institute of Human Resources and Industrial Relations (HRIR) under the name the Institute of Social Administration (ISA) with the goal of cultivating a graduate level program covering the field of labor management relations. The program, the first of its kind in the Midwest, equips its students with economic, social, and political theories,
Loyola News was the campus newspaper and was published from 1924 to 1969. In 1969, the newspaper changed to its present day title, Loyola Phoenix.
Initiated in 2006, The Loyola University Chicago Oral History Project is documenting the history of Loyola University Chicago through oral history interviews of administrators, staff, faculty, and alumni. Administration, faculty, staff, and alumni were interviewed about their experiences at the John Felice Rome Center as part of the project.
Margaret (Peggy) Roach was born on the north side of Chicago, Illinois on May 16,1927 to James E. and Cecile Duffy Roach. Graduating from St. Scholastica High School in 1945 Peggy registered at Mundelein College where she graduated in 1949. In 1958 Peggy returned to Mundelein College as Alumnae Director. Peggy was very active in civil rights legislation and was
Marion Jean Kennedy was born on November 27, 1934, the daughter of Marion Mitchell and Edward Kennedy. Growing up on the south side of Chicago, she attended Maria High School, but came to the north side of the city to attend and graduate from Mundelein College. She married Camillo Volini, and they raised their five children in the Lakewood-Balmoral neighborhood
Marjorie Tuite, O.P., (1922-1986) was born and raised in New York City. She is described in the program at her memorial service following her death on June 28, 1986 as "a leading voice for an equal role for woman in the Roman Catholic Church, an advocate for the poor and an educator on a broad range of social justice issues."
Mary Ann Smith is alderman of the 48th ward in Chicago; she was appointed in 1989 by Mayor Richard M. Daley to replace Kathy Osterman; she was first elected in 1991. Mary Ann Smith's papers pertain primarily to her tenure as Alderman of the 48th Ward, and are divided into eleven series with multiple subseries that address her aldermanic duties