Partnerships
The BMRC regularly collaborates with our member institutions and others organizations on projects that align with the BMRC's mission to connect all who seek to document, share, understand and preserve Black history and culture. Please read on to learn more about our current and past partnerships.
---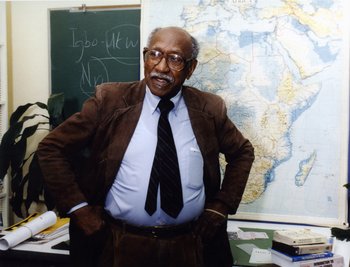 Timuel Black Essay Contest

The Timuel D. Black Essay Contest was established in 2022 to help local Chicago high school students connect with and reflect upon the life and legacy of Timuel Black. Timuel Black was an educator, historian, author, civil rights activist and labor leader who championed the many important roles that Black Chicagoans have played in shaping the city. The idea for the contest was born out of conversation at a board meeting of the Black Metropolis Research Consortium about how the BMRC might honor Tim Black after his passing on October 13, 2021. BMRC board member Tony Dunbar, a professor at Dominican University in the School of Information Studies, raised the idea of an essay contest for high school students. From there, the Timuel Black Essay Committee was formed with representatives from the BMRC, the Civic Knowledge Project at the University of Chicago, Chicago Public Schools and Zenobia Johnson Black, widow of Timuel Black.
The contest is open to students, grades 9-12, currently enrolled and attending a high school in Chicago.
DEADLINE EXTENDED! MARCH 20, 2023

To learn more...
---
Black Metropolis Graduate Assistantships
Jointly administered by the Black Metropolis Research Consortium (BMRC) and Northwestern University's Center for Civic Engagement (CCE) and supported by Northwestern's Racial Equity and Community Partnerships grants program, the Black Metropolis Graduate Assistantships will embed a cohort of Northwestern doctoral students at select BMRC member institutions during the academic year.  Over the course of 9-month assistantships, graduate students will perform work of public and intellectual value that:

1) Documents, preserves, interprets, and/or promotes the use of Black historical collections, and/or
2) Advances equity & access in institutional practices and policies, and
3) Provides opportunities for them to gain skills, experiences, and networks helpful to them in pursuing career pathways beyond the academy.
Eligibility: BMRC Member Institutions in good standing. BMRC member institutions who host graduate assistants will receive $5,000 in recognition of the staff capacity to supervise fellows and resources required to support these projects.

To learn more...
---
Black Nurses in Chicago/Covid Remembrance Project
The BMRC is a partner on, "Black Nurses in Chicago-Covid Remembrance Project," led by the Midwest Nursing History Research Center at the University of Illinois Chicago. It is a community-engaged project that seeks to excavate, challenge and broaden nursing narratives and health care history with the objective of magnifying the voices of Black nurses in Chicago. The project begins with Provident Hospital, the first Black owned and operated medical institution in the United States.  Critical to this story are Black nurses struggles for integration and equality and their role in the development of schools of nursing with training programs. To celebrate Black nurses' historical and contemporary contributions and to ensure public accessibility, two exhibits will be created.  The first, a mobile exhibit, will be housed in various venues across the city; the second, a digital exhibit, centralizes Black nurses' narratives while simultaneously reorienting how nursing history has traditionally been understood. Ultimately, by making visible Black nurses as important actors in the nursing profession, this project takes seriously public discussions to diversify and legitimize the experiences of those absent from nursing historiography and simultaneously marginalized within the profession.
Together, the BMRC and the Midwest Nursing History Research Center (MNHRC) will work with archivists to assess the condition, accessibility, and content of the collections, as well as read and highlight any historically relevant content relating to Black nurses. To provide the public basic information about the contributions of the nurses and their work, highlights and profiles from these collections will be synthesized and standardized into a central digital resource. As new collections are discovered, they will be added to this platform, which will be maintained by the Midwest Nursing History Research Center (MNHRC) and Digital UIC, part of the UIC Library.
"Black Nurses in Chicago-Covid Remembrance Project" is funded by the Gaylord and Dorothy Donnelley Foundation and the University of Illinois Presidential Initiative: Expanding the Impact of the Arts and Humanities.