Workshops
Open to the Public
---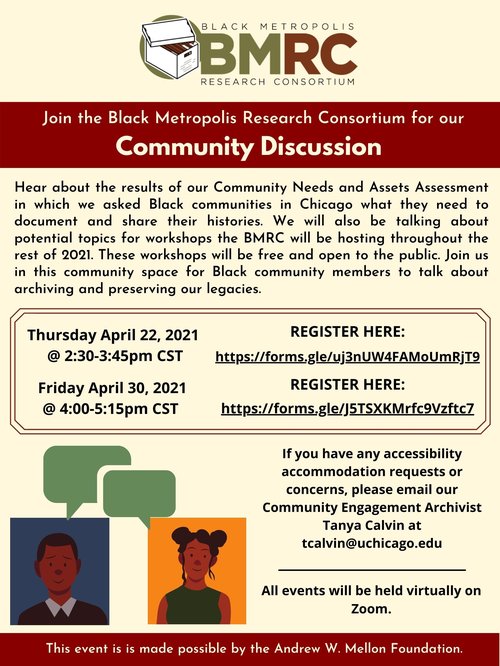 Community Discussion
Please join us for the BMRC's Community Discussion about our Community Needs and Assets Assessment. We ran this survey through February and the first half of March and would like to share the results with the Black Chicagoland community members who are interested in learning more. The CNAA and this discussion will help us determine topics for archival workshops to be hosted by the BMRC throughout the rest of 2021. Join us for a presentation of the survey results by Community Engagement Archivist, Tanya Calvin, and a discussion about Black Chicagoland's archival and legacy management needs. If you're interested in preserving the history of your Black communities in and around Chicago, this discussion is for you!
Note: These discussions are intended to get feedback and input from Black residents of Chicago and those who work on behalf of or for Black organizations. Please consider this when choosing to register.
Thursday April 22nd, 2021 from 2:30pm-3:45pm CST. Register here:
Friday April 30th, 2021 from 4:00pm-5:15pm CST. Register here:
Please feel free to contact Tanya Calvin with any accessibility accommodation requests or concerns at tcalvin@uchicago.edu.
---
Open to BMRC Member Institutions
---
There are no workshops for BMRC members coming up at this time. Please go to our YouTube page to see a recording of our Collection Diversification and Community Engagement Panel from November 2020: https://youtu.be/Vo_4Ez8-yLs