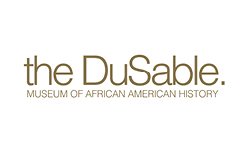 DuSable Museum of African American History
740 East 56th Place, Chicago, IL 60637
Results 1 to 25 of 40
1970s (40) x
DuSable Museum of African American History (40) x
clear facets
Andrew Paschal (1907-1990) was a Chicago-based historian and educator who specialized in social history and the life and work of W.E.B. DuBois. A graduate of Northwestern University's school of journalism, Paschal wrote for the WPA Illinois Writers' Project and was published in several newspapers and journals, including the Chicago Defender, Pittsburgh Courier, Crisis, Journal of Negro History, and Chicago Bee.
Bessie Coleman, the first African American female pilot to obtain a license. Coleman learned French at a Berlitz school in the Chicago loop, withdrew the savings she had accumulated from her work as a manicurist and the manager of a chili parlor, and with the additional financial support of Abbott and another African American entrepreneur, she set off for Paris
Edward Bruce Walker was a veteran and collector of Tuskegee Airmen memorabilia.
The Captain Harry Dean papers spans from 1817-1973 with the bulk of material from 1909-1934. Dean was an African-American sailor who supported the Pan-Africanism movement. Dean spent the majority of his adolescent and adult years sailing throughout Europe and Africa. In 1900, he purchased a ship, "The Pedro Gorino," which he captained before coming back to America, circa 1920. The
In 1959, teachers Margaret and Charles Burroughs founded what was to become the DuSable Museum of African-American History in their residence at 3806 S. Michigan Ave. Called the Ebony Museum of Negro History and Art, it started out with 100 items. In 1973, the museum moved to its current location, the former administration building of Washington Park at 740 E.
Charles Clarence Dawson (1889-1981) was a commercial artist best known for his illustrated advertisements of beauty schools and cosmetic products during the 1920s and 1930s. The Charles Dawson papers spans from 1912-1980, and includes original artwork, unpublished writings, personal correspondence with family members, photographs, and documents pertaining to Dawson's time as curator of the Museum of Negro Art and Culture
African American travel writer. Founded the Travelers Research Publishing Company of Chicago.
The museum's photograph collection includes a variety of clippings, commercial publicity portraits, head shots, and candid photographs of people and events, apparently from individual personal collections, donations to the museum, collecting by museum staff, and museum events themselves. The photographs are in large part identified, and follow two arrangements: some are stored in Hollinger boxes with indexes, and some, all
Collection consists of various documents about the founding and early days of DuSable Museum including annual reports, board meetings minutes and exhibit information.
The DuSable Museum of African American History Moving Image Collection consists of both items that pertain in particular to the museum itself (its history and productions) and items that were donated and collected for their greater relevance to African American history. For this reason, the collection is divided into two series, the Moving Image Archive and the Moving Image Library,
Highly regarded as a blues singer and vaudeville performer by the 1920s, Edith Wilson went on to perform on radio, television, and as a spokeswoman for the Quaker Oats Company. Wilson was born Edith Goodall on September 2, 1896 in Louisville, Kentucky to Susan Jones and Hundley Goodall. After performing locally in her youth and at Louisville's Park Theater, Wilson
Eugene Pieter Romayn Feldman (1915-1987) was one of the founders of the DuSable Museum of African American History and fulfilled a number of roles in his 26 years at the museum, including Director of Research and Publications, Public Relations Officer, and Chief Archivist. The Eugene Feldman papers span from 1942-2002 with the bulk of material from 1969-1986. The papers provide
Eugene Winslow was born on Nov. 17, 1919. He attended Froebel High School in Gary, Indiana and received a B.A. degree from Dillard University in New Orleans in 1943. Winslow graduated from the TAAF School in Tuskegee, Alabama during World War II attaining the rank of 2nd Lieutenant. He later served in the U.S. Air Force Reserve attaining the rank
Frank Marshall Davis (1905-1987) was a prominent poet and journalist who lived in Chicago, Kansas, and Atlanta during the 1930s and 1940s before moving to Hawaii in 1948. Author of three major volumes of poetry, Black Man's Verse (1935), I Am the American Negro (1937), and 47th Street (1948), Davis was also an active journalist in Chicago and Atlanta; he
Fred Wall joined the staff of the Chicago Courier in 1959 and became Editor and Publisher in 1968. The Courier was the largest weekly at the time of his death in 1973, with a circulation of 32,000. He served as Associate Pastor at Progressive Baptist Church and was former secretary to Rep. William L. Dawson (D., Ill.). He was a
The Friends of the Elam Home Foundation records spans from 1921-1981, with the bulk of material from 1974-1979. Some documents pertain to the original Melissia (Melissa) Elam Club Home for Working Women and Girls, while the majority of the collection relates to the Friends of the Elam Home Foundation's efforts to secure landmark status for the Elam Home. In 1923,
The papers of Carl A. Fuqua, his wife Doris, and Mildred Fuqua Wilson, his sister, are intermixed. Carl Fuqua was ordained in the African Methodist Episcopal Church, and served as pastor for five churches in Minneapolis, Minnesota; Detroit, Michigan; South Bend, Indiana; and Chicago. Carl attended Morehouse College, George Williams University, and Garrett Theological Seminary. In the 1960s, he served
Henry Jackson Lewis (1837?-1891) was an African American artist who gained notoriety for his political cartoons, the majority of which were published while he worked for The Freeman, in Indianapolis, Indiana. The Henry Jackson Lewis collection spans from 1891-1967, and contains copies of cartoons by Henry Jackson Lewis that were originally drawn during the Reconstruction and post-Reconstruction era, personal material
Chicago native Hope Ives Dunmore was a longtime member of the Old Settlers Social Club, an organization founded by prominent members of Chicago's African American community in the early 1900s. She was born circa 1894 in Chicago, Illinois, the eighth of twelve children of Anna Bumbry Dunmore and Robert Dunmore. The Dunmores lived at S. Campbell Avenue on Chicago's South
An outgrowth of Oneida Cockrell's pioneering pre-school and kindergarten, the Howalton Day School (1947-1986) was founded by three black educators: June Howe-White, Doris Allen-Anderson, and Charlotte B. Stratton. The name of the school is from a combination of the founders' three last names. Chicago's oldest African American, private, non-sectarian school, Howalton's educational philosophy stressed discovery, enthusiasm, creativity, the arts and
Jackie Zelda Ormes, born Zelda Marvin Jackson (1911-1985), was the first African American female to gain prominence as a cartoonist. She created four cartoon and comic series between 1937-1956, each one featuring African American female protagonists, and addressing social and political issues of the mid-twentieth century. The Jackie Ormes papers span from 1938-1985 and reflect her professional work and her
Charlemae Hill Rollins and Joseph Walter Rollins, Sr. were a prominent couple in Chicago's African American community from the 1920s through the 1970s. While Charlemae Rollins is more well-known nationally, Joseph Rollins held a high civic profile through his veterans' activities, and he was frequently noted in society columns in Jet and the Chicago Defender. Charlemae Hill Rollins, librarian, educator,
Langston Hughes was an American poet.